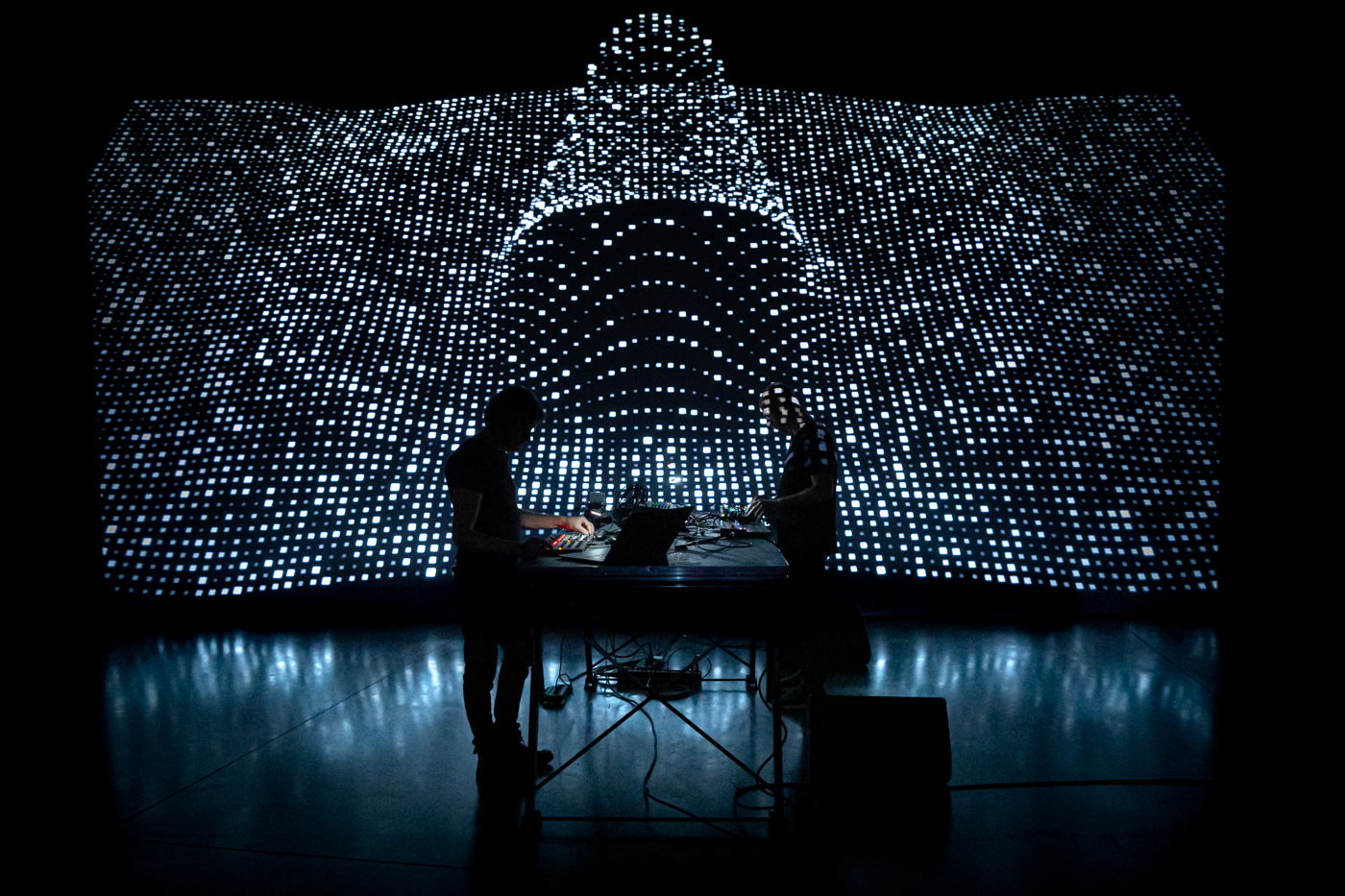 Franck Vigroux et Antoine Schmitt
ATOTAL
Blade Runner Weekend
Show
From Saturday 27 to Sunday 28 November 2021
CENTQUATRE-PARIS
5 rue Curial
75019 Paris
Performance Saturday 27 November at 9 pm.
Length: 40 minutes

Saturday 27 November from 2 to 10 pm
Sunday 28 November from 11 am to 1 pm and from 2 to 7 pm


Free registration
We will cap off an event-filled Saturday with ATOTAL, the performance we have selected for the musical segment of our weekend delving into Philip K. Dick. 
---
We were drawn to how the work portrays the stranglehold of communication / propaganda omnipresent in a society of the spectacle at its peak, and the enslavement of humans by the machine of state (which Dick feared immensely). This show with visual artist Antoine Schmitt is the first of three that Franck Vigroux will be performing at Biennale Némo 2021!
When total artwork is pushed to its absolute limit in terms of the alignment of perception among a captive audience, it begins to resemble the manipulation techniques of totalitarianism, namely the elimination of critical thinking, an onslaught of repetitive semantics, and subliminal messaging.
ATOTAL is an audiovisual show that attempts to deconstruct (in order to reconstruct for the better) the processes through which the will is imposed via repetition and absolute synchronism, opening the door to a "de-alignment" that may be our way out.
---
Visuel © ATOTAL, Franck Vigroux et Antoine Schmitt (création mondiale) Photo : Quentin Chevrier

PRODUCED BY
Cie D'Autres Cordes
With support from Sacem, Adami, Spedidam, Imago, Zone Libre, Vidéoformes, and the City of Mende
CO-PRODUCED BY
Anis Gras le lieu de l'autre – Festival Bruits Blancs
ARTIST RESIDENCIES
Espace des Anges (Mende, FR)
Imago / VIDEOFORMES (Clermont-Ferrand, FR)
With support from ADAMI and SPEDIDAM.
The Autres Cordes company est conventionnée par la Région et la DRAC Occitan