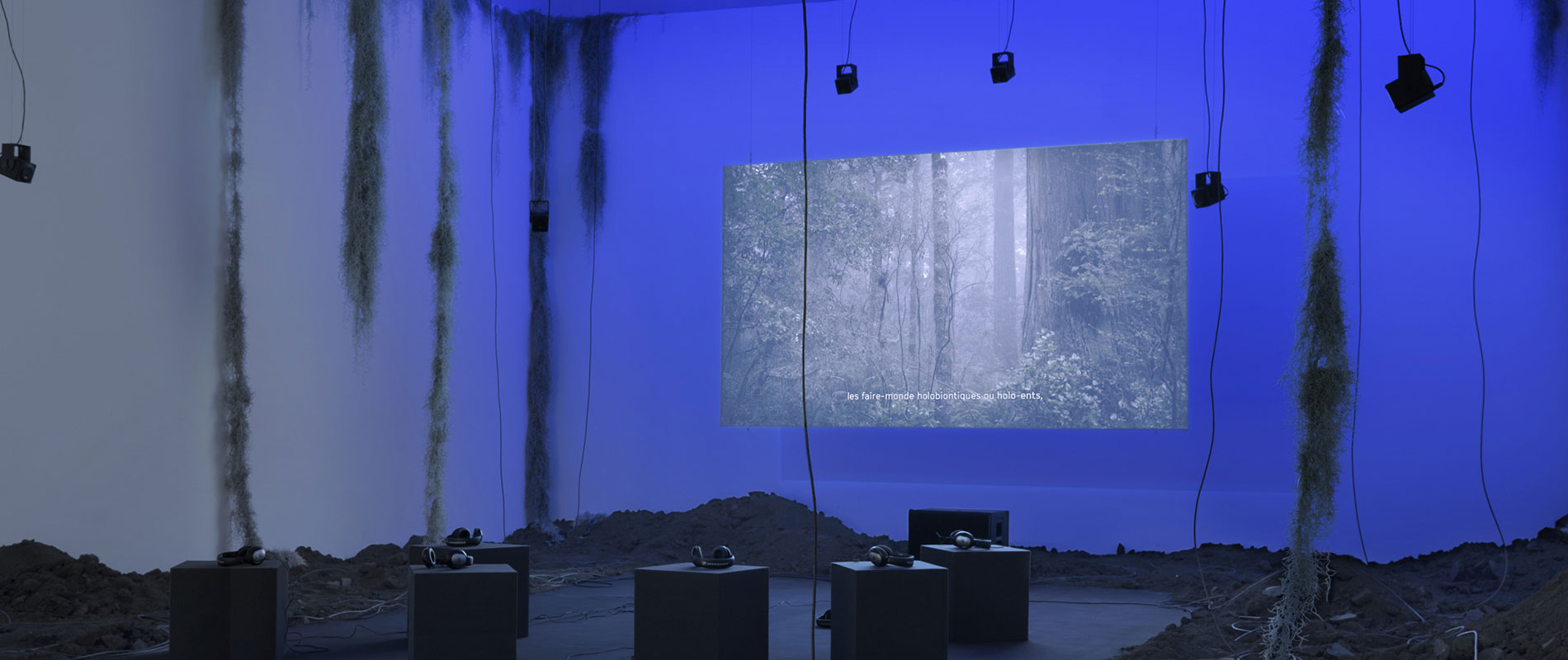 Carte blanche House to the Electronic Arts Basel
Exposition
Rencontre
Spectacle
From Wednesday 11 to Saturday 14 December 2019
Centre Culturel Suisse - Paris
38 Rue des Francs Bourgeois
75003 Paris
———
■ Carte blanche House to the Electronic Arts Basel

In its program for Centre culturel Suisse, HeK (House of Electronic Arts Basel) reflects its identity as a museum dedicated to digital culture and the new art forms of the information age. Through different formats, such as installations, screenings, performances and a public talk, HeK presents a selection of works in relation to its recent and upcoming program, echoing its specific focus on artificial intelligence developed throughout the year. In conjunction with the theme of the Némo – International Biennale of Digital Arts, questioning the impending disappearance of mankind because of technological backlash, the artists displayed at CCS explore new forms of interactions between humans and artificial agents, while examining our future coexistences with autonomous machines that are being increasingly produced and implemented in all layers of our society. Presented works are by Marco Donnarumma & Margherita Pevere, knowbotiq, Dominique Koch, and Lawrence Lek.
● Wednesday 11 December:  20.00 – Performance: Marco Donnarumma in collaboration with Margherita Pevere Eingeweide – A Ritual of Coalescence for Two Unstable Bodies ca 40 Min ●
Eingeweide is the staging of a ritual of coalescence. Inhabiting a desolated, surreal landscape, two human bodies become violently entangled with an artificially intelligent (AI) prosthesis, out-of-body organs, relics from computer server farms and animal remains. A far scream from trans-humanist ideals or techno-phobic claims, Eingeweide creates its own vocabulary of symbolic meaning, manifesting the relationship between humans, technology and living-others as a harsh, poetic and humbling form of intimacy.
Before the performance Sabine Himmelsbach and Boris Magrini give a welcoming word and introduce the Carte Blanche HeK at CCS Paris programme.
●  Thursday 12 December: 20.00 Performance: knowbotiq The Swiss Psychotropic Refinery – Molecular joy and abstract sex ca 40 Min. and 21.00 Screening: Dominique Koch, Holobiont Society (2017) 33 Min. ●

knowbotiq present their current artistic studies on the metabolic and affective processes of gold in a performative lecture. Psychotropic desires and appetites surround the shiny, precious metal: gold as a drug. The release of endorphins induced by greed, increased testosterone production through trading derivatives of gold, spiritual experiences of meditating on bullions, or the lustfulness of patriarchal gold as jewellery are excessive affective fabulations, far beyond the simplistic stories often found around the metal. The artists invite us to "stretch the imagination and change the story."
Holobiont Society poses the question of possible contemporary resistance strategies in a individualistic, profit-oriented society that generates sustained economic growth through war, debt, and austerity programs, while creating inequality, climate chaos, and cultural and biological extinction. The film is articulated around the concept of the holobiont, a term derived from molecular biology and which functions, in Dominique's work, as a metaphor for a socio-political model. The Holobiont Society operates as a speculative counter-model to provide an alternative to the game over narrative.
●  Saturday 14 December: 13.00 – 16.30 Drop-in workshop: Kill your phone – going off the grid instantly and 16.30 Screening: Lawrence Lek AIDOL 爱道 (2019) 85 Min. Courtesy the artist and Sadie Coles HQ, London ●
Besides being really useful, our mobile phones are also spying on us. In this workshop you can sew a mobile phone pouch that shields your phone from all signal connections. A small life-hack for all those who want to do without permanent tracking of their location, and are critical of permanent surveillance of their actions. The workshop was developed from a workshop called "Kill your Phone" by artist Aram Bartholl and is organised by HeK.
AIDOL, the feature-length sequel to the film Geomancer, focuses on the global phenomenon of electronic sports, a growing mass-entertainment medium where professional players compete in international video game tournaments. The film features a fading superstar, Diva, who enlists the aspiring songwriter Geomancer – a satellite with artificial intelligence – to mount a comeback performance at the 2065 eSports Olympics.
Photo Credit – Dominique Koch, Holobiont Society, 2017, Installation view, Vidéo 4K, son, 32 min, Courtesy Dominique Koch, in collaboration with Tobias Koch (sound design)
———
[ GENERAL INFO ]
Centre culturel suisse, Paris 3e
From 11th to 14th december 2019, informations ►https://ccsparis.com/event/carte-blanche-a-la-hek-house-of-electronic-arts-basel