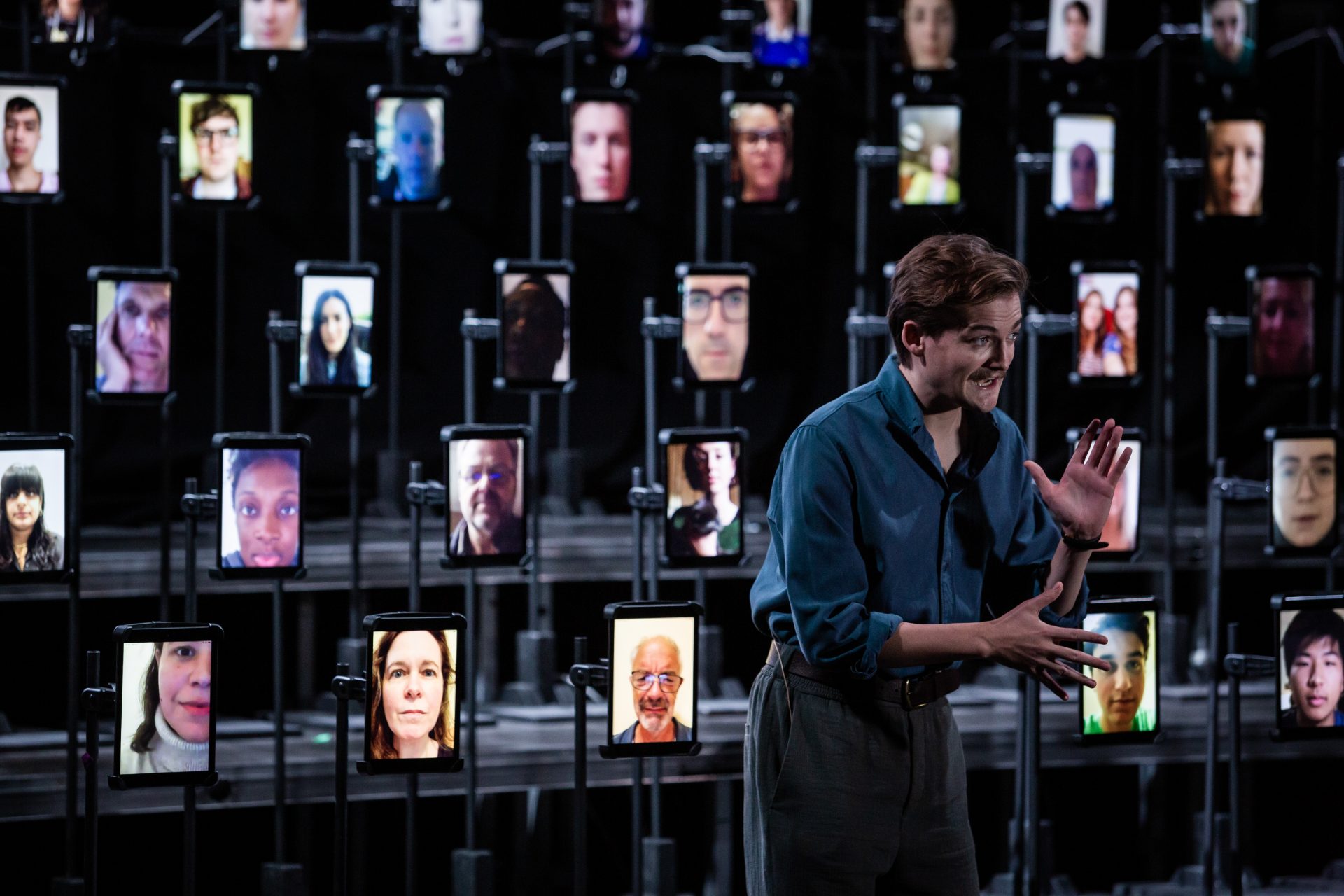 Dead Centre
To be a machine (version 1.0)
From Wednesday 15 to Sunday 19 December 2021
Wednesday 15, Thursday 16, Friday 17 and Saturday 18 December at 9 pm
Sunday 19 December at 7 pm

ONLINE performance in English with French subtitles
Length: 50 minutes

Please provide an email address so the CENTQUATRE-PARIS can send you a link to activate your participation in the show a few days before the show.
Buy a ticket
An exceptional show to be experienced from home – even though it was filmed live at the CENTQUATRE-PARIS – that can only be seen online, through the magic of the Internet. On stage, surrounded by an arsenal of technological tricks, Jack Gleeson (King Joffrey in Game of Thrones!) relates the promise of transhumanism, which aims to enhance humans through fusion with technology, to become more than the animals we are.
Némo Pass: book 3 shows of the Biennale Némo at the CENTQUATRE-PARIS and benefit from the subscription rate for all the shows of the 2021-2022 CENTQUATRE-PARIS season!
Monday 13 December at 8 pm: Online discussion on the book To Be a Machine (2017) organised by Centre culturel Irlandais in Paris with the performers and author Mark O'Connell.
In English
---
The "seating" for each evening's performance is a bit out of the ordinary. When you book your ticket, you will receive an email with instructions for "uploading yourself" to the audience. We can't tell you how, but you will have a seat in the theatre.
The production is adapted from Mark O'Connell's book To Be a Machine. Form and substance are perfectly aligned—you and the theatre will become one with the machines for an evening! You will watch online as Jack Gleeson, surrounded on stage by a mammoth array of equipment and tech wizardry, tells you about your future as technological animals. We can guarantee that you've never seen anything like it!
The show to make you mourn live theatre while also getting excited about the potential for using digital technology with inventiveness, style and intelligence.

The Stage
Dead Centre is a company founded in 2012 by artistic directors Bush Moukarzel and Ben Kidd, and producer Natalie Hans and Mag Keohane. Based in Dublin and London, Dead Centre has formed a close team of writers, technicians, inventors, artists, designers and performers. The company has already toured six projects, in cities such as New York, Amsterdam, Brisbane, Saint Petersburg, Berlin, Vienna, Hong Kong and Seoul.
---
The presentation of this production was made possible by support from Culture Ireland and Centre Culturel Irlandais in Paris.

Performed by Jack Gleeson
Featuring Mark O'Connell as himself
Adapted by Mark O'Connell and Dead Centre from the book by Mark O'Connell
Producer: Natalie Hans
Artistic Directors: Bush Moukarzel and Ben Kidd
Production Manager: Seán Dennehy
Co-produced by Dead Centre and the Dublin Theatre Festival.
Developed and supported by the Science Gallery at Trinity College Dublin as part of the European ARTificial Intelligence Lab project. Co-financed by Creative Europe.
Support from the Arts Council. The presentation of this show is made possible by the support from Culture Ireland and the Centre Culturel Irlandais de Paris
Image: © Ste Murray, flouter les visages
Further information: deadcentre.org