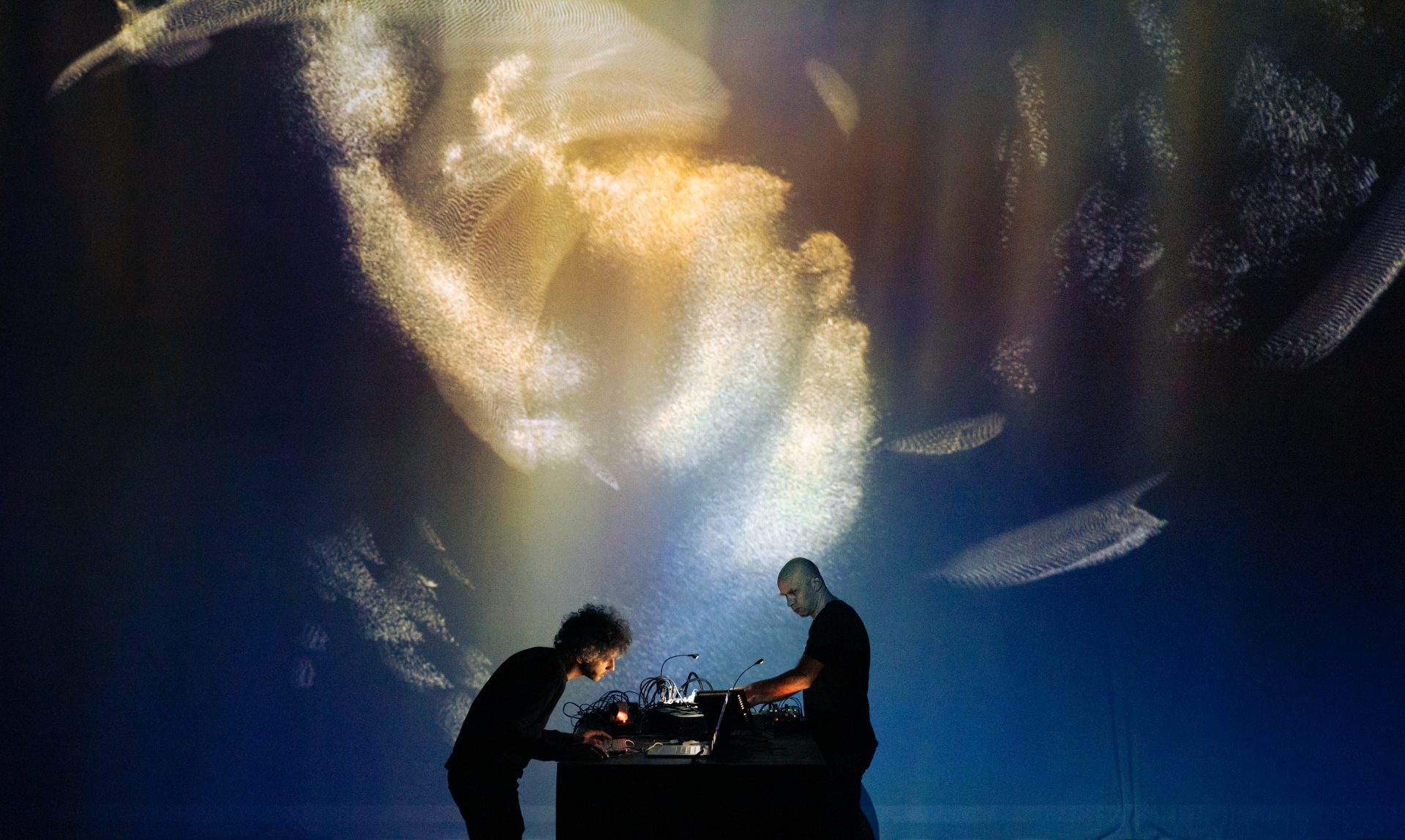 Le Grand Soir Numérique
Friday 3 December 2021 at 20h30
Philharmonie de Paris
221 Avenue Jean Jaurès
75019 Paris
We kick off our performing arts series with another edition of Le Grand Soir Numérique, a momentous evening of multidisciplinary performances. This year, Franck Vigroux, Kurt d'Haeseleer and the Italian group SCHNITT have new sounds and images in store, and will even use audience interaction as an audiovisual instrument!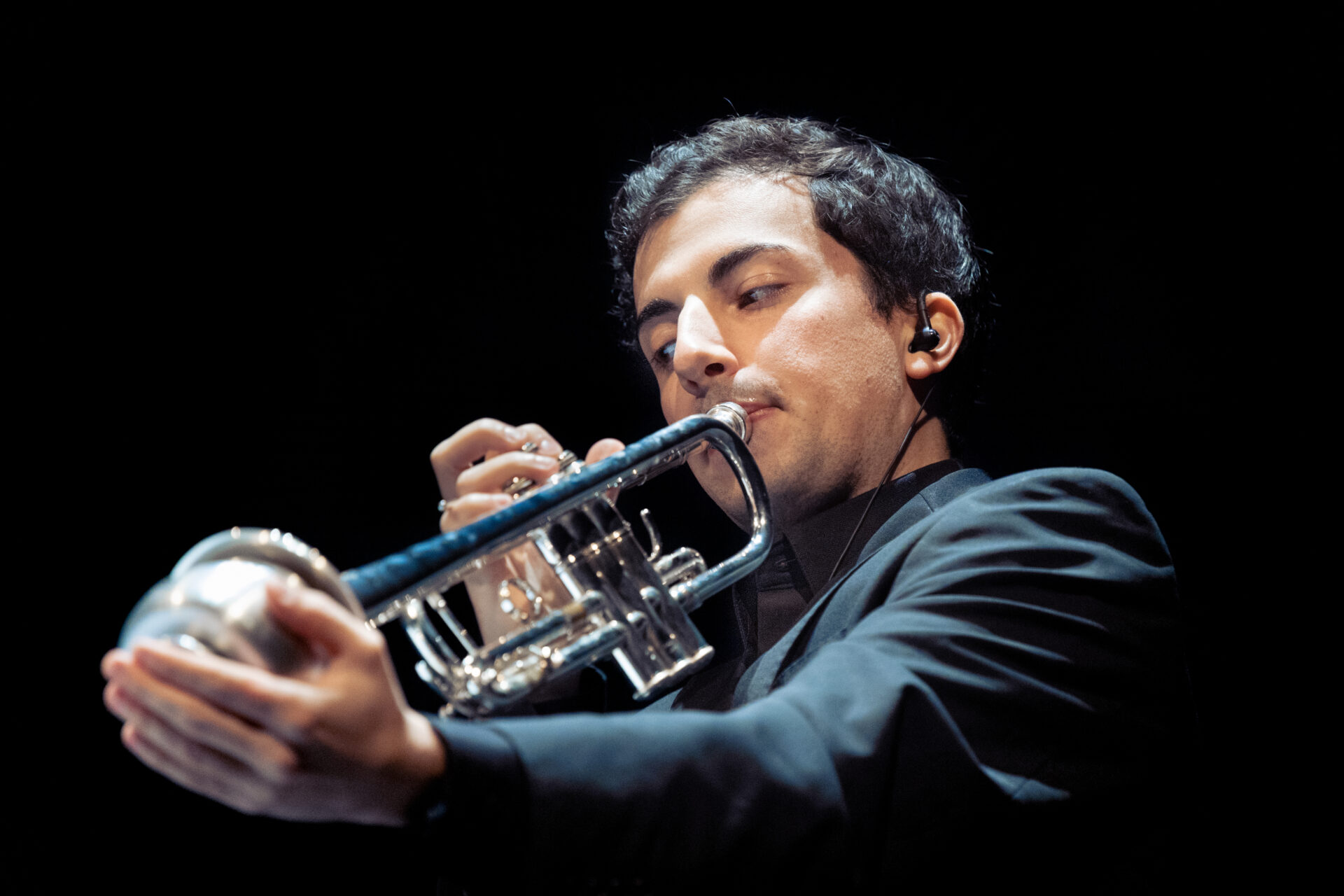 ---
Program
Impro ex Machina, performance for instruments and electronics (new work)

Yan Maresz: Metallics, for trumpet and electronics

Jug Markovic: Concerto de chambre n°2, for twelve instruments

Sofia Avramidou: Géranomachie, for large ensemble and electronics (commissioned by Ensemble intercontcmporain and IRCAM – Centre Pompidou; new work)

SCHNITT & Gianluca Sibaldi: ScanAudience, interactive audiovisual performance (S+T+ARTS)

Franck Vigroux / Kurt d'Haeseleer: The Island, audiovisual performance
Co-produced by Philharmonie de Paris and Ensemble intercontemporain, in partnership with IRCAM – Centre Pompidou.
---
For the past several years, Ensemble intercontemporain, Philharmonie de Paris and Biennale Némo have been putting on Le Grand Soir Numérique, which has grown to become a classic on the event calendar. And we're overjoyed to open the performing arts series at Biennale Némo with this year's edition!
Alongside two spatialized sound experiences from the music research institute IRCAM and Ensemble intercontemporain, conducted by Léo Margue, we are rounding out the programme with two performances in true Biennale Némo style, which pair digital arts and interactivity.
Franck Vigroux's incisive electronics and Kurt d'Haeseleer's live video performance combine to make The Island a spectacular mental journey through places—valleys and the titular islands—destined to be submerged. In ScanAudience, the duo SCHNITT scans the public in real time to gather the data—body shapes and clothing colour and materials—used to generate the sound and visual elements.
---
Image Ⓒ Franck Vigroux / Kurt d'Haeseleer : The Island. Photo: Quentin Chevrier
Production and distribution
Coproduced with Philharmonie de Paris & l'Ensemble intercontemporain, and in partnership with Ircam – Centre Pompidou.
Ensemble intercontemporain Léo Margue, direction / Lucas Lipari-Mayer, trompette / Carlo Laurenzi, réalisation informatique musicale / Ircam Manuel Poletti, réalisation informatique musicale Ircam / Benjamin Lévy, improvisation électronique / Schnitt, électronique, vidéo live / Gianluca Sibaldi, programmation, systèmes informatiques / Marco Monfardini, programmation, systèmes informatiques / Franck Vigroux, électronique / Kurt D'Haeseleer, vidéo live / Dionysios Papanikolaou, réalisation informatique musicale Ircam
The Island, Franck Vigroux et Kurt d'Haeseleer
Production : Cie D'Autres Cordes Co-production : Werktank avec le support des autorités flamandes
With the support from l'ADAMI et de la SPEDIDAM.
La compagnie d'Autres Cordes is supported by la Région et la DRAC Occitanie
Scanaudience, SCHNITT et Gianluca Sibaldi
Production: sync Musique et concept : Marco Monfardini, Amélie Duchow, Gianluca Sibaldi