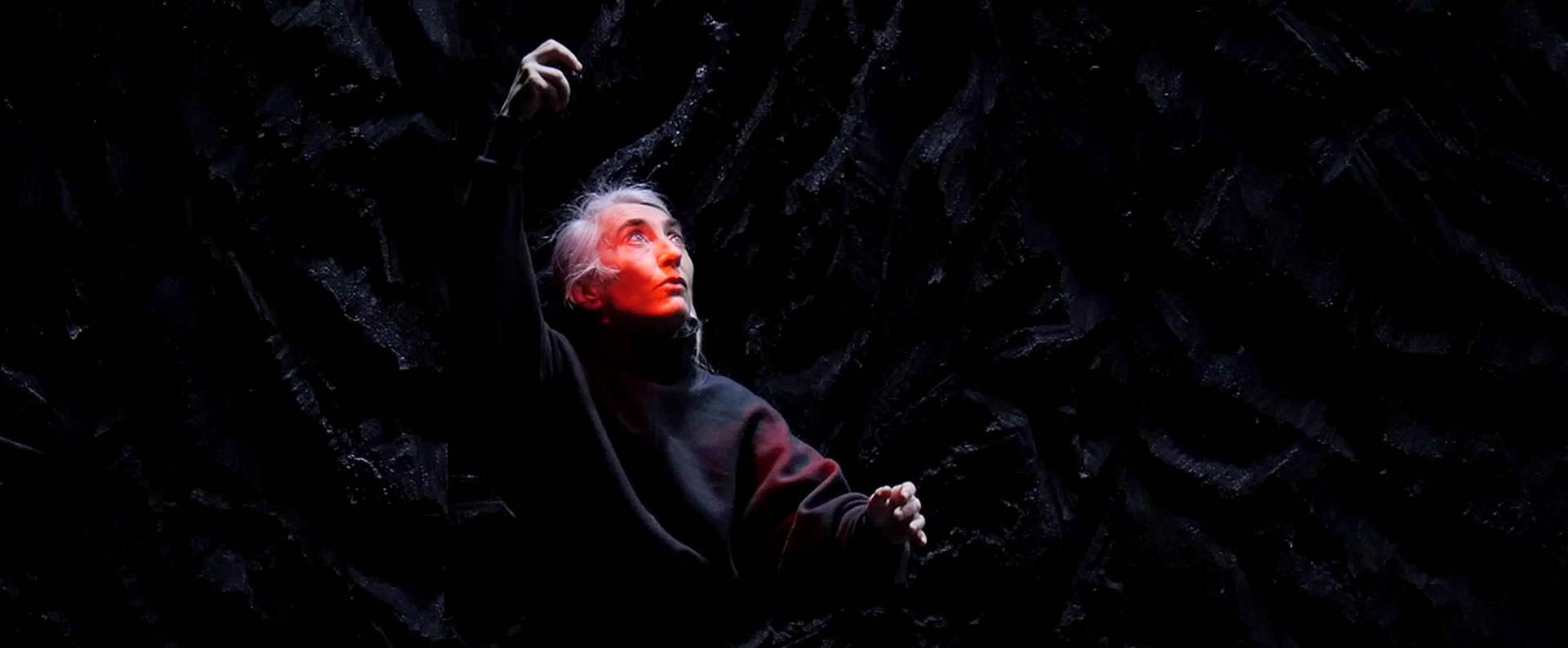 Clément Debailleul / Cie 14:20 [postponed]
Æon
From Thursday 18 to Saturday 20 November 2021
École Normale Supérieure Paris-Saclay
4 Avenue des Sciences
Gif-sur-Yvette 91
Length: 1 hour 20 minutes
Tickets: 20 € / 14€ / 10€ / 5€
Exceptional price of 12€ for the participants of the Arts and Sciences participants in Essonne

The performance is not suitable for those with epilepsy.
Buy a ticket
Continuing with the topic of time following the discussion with Étienne Klein, the Scène de Recherche theatre at ENS Paris-Saclay is presenting an initial version of Æon, la nuit des temps (Æon, the dawn of time) before it is presented at CENTQUATRE-PARIS from 14 to 22 December.
Æon explores general relativity, curved spacetime, parallel universes, and sensory disturbances. You are in for an extraordinary experience that extends far beyond reality.
---
Æon – Teaser
Founded by Clément Debailleul and Raphaël Navarro, the company 14:20 is at the initiative of the New Magic movement. In residence in 2021 at the Scène de recherche, it is preparing its show ÆON around the theme of time in close collaboration with the Cognition & Brain Dynamics research team (NeuroSpin). On stage, her working material is the illusion of time, anchored in the brain's functioning and neuronal rhythms, but also the story of the speleologist Michel Siffre and his experience of life underground.
---
Productions and support

Cie 14:20
Compagnie 14:20 is a CENTQUATRE-PARIS associate company
Concept and story: AragoRn Boulanger, Clément Debailleul, Elsa Revol
Directed by Clément Debailleul
Choreography: AragoRn Boulanger
Lighting design: Elsa Revol
Set design: Benjamin Gabrié
Script: Christophe Galfard, Michel Siffre, Virginie Van Wassenhove
Voiceover: Marco Bataille-Testu
Scientific partners: Christophe Galfard, Alice Guyon, Virginie Van Wassenhove
With AragoRn Boulanger and Armelle Bérengier
Production manager: Mickaël Marchadier
Stage manager: Marco Bataille-Testu
Administration, production and touring: La Magnanerie
Production : Cie 14:20
Coproduction : Le Rive Gauche dans le cadre de SPRING, festival des nouvelles formes de cirque en Normandie, proposé par la Plateforme 2 Pôles Cirque en Normandie / La Brèche à Cherbourg
– Cirque-Théâtre d'Elbeuf, Théâtre de Caen, Théâtre de L'Estran de Guidel, Centre des arts d'Enghien-les- Bains, Scène conventionnée "écritures numériques", NÉMO – Biennale internationale des arts numériques de la Région Île-de-France, La Scène de recherche de l'ENS Paris- Saclay et La Diagonale Paris-Saclay.
Accueil en résidence : Abbaye de Noirlac – Centre culturel de rencontre / Le CENTQUATRE-
PARIS / Centre des arts d'Enghien-les-Bains, Scène conventionnée "écritures numériques", Théâtre
de Caen, La Scène de recherche de l'ENS Paris-Saclay et La Diagonale Paris-Saclay.
Avec le soutien de : Ministère de la Culture-DGCA. La Cie 14:20 est soutenue par la Ville de Rouen et la Région Normandie. La Cie 14:20 est conventionnée par la DRAC Normandie. Valentine Losseau, Raphaël Navarro et
Clément Debailleul sont artistes associés au Théâtre du Rond-Point et sont parrains/marraines de la 81e promotion de l'ENSATT. La Cie 14:20 est associée pour la pédagogie et la recherche avec le CNAC Châlons en Champagne (formation permanente, Boîte Noire, Centre de Ressources)